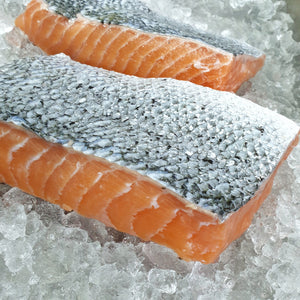 Salmon Fillet (1kg)
Regular price
$50.00
Sale price
$52.90
Unit price
per
Air-Flown Fresh Salmon from Norway - we chop out the Salmon Fillet from the whole fish on the morning of your delivery, for maximum freshness. Salmon Fillet is delivered with skin on. 
Salmon is a common favourite premium fish for many, and has a tender and rich flesh that tastes delightful whether baked or pan-fried. Salmon is often topped with freshly-squeezed lemon for the perfect pairing of tastes.
Fresh Salmon Great Price
Very fresh salmon, meaty and fatty at the same time. Great for grilling, steak, pan fry, pasta, you name it. Price is also very reasonable for the quality. Buy fresh, not frozen!
Best seafood I've ever had
Over the past year, I've had Guang's salmon, cod, prawns, crayfish, and clams, just to name a few. The items were always of excellent quality - fresh and sweet, with just a little hint of the sea. The quantity is also remarkable for the price point; Guangs has sent me some of the biggest prawns I've ever had the pleasure of cooking and tasting. All in all, would highly recommend!
Salmon fillet
Salmon is very fresh! Will definitely buy again.
---